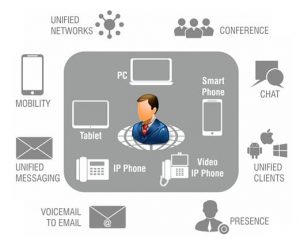 Unified Communication solution brings you together all the way your business communicates and let them talk to each other so that they can work in a single system.
Many businesses are choosing Unified Communication Solution over traditional phone system because it is the better way to future-proof their investment and keep peace with advances in the technology.
Collaboration, Communication, Messaging and Mobility are four pillars of Unified Communication. Video Calling, Email Integration, Presence, Chat, Conference Bridge, Logical Partition, Mobile App, PC Softphone, Radio Connectivity are some unique solutions in our proposition.
WORKFORCE COLLABORATION
Streamlined Business Operations
Increased Staff Responsiveness to Customers
Increased Employee Effectiveness and Efficiency
Increased Availability to Customers
BUSINESS CONTINUITY AND NETWORKING
Anytime Connectivity with Customers
Customer Assistance whether Inside Office or On-the-Move
Assured Communication between Different Locations even in Case of Trunk Failure
Increased Visibility of entire Infrastructure from a Central Location
Minimum Downtime
EFFECTIVE RESOURCE UTILIZATION
Utilize Existing IT Infrastructure with Existing Telephones
Use same Internet Connection for Voice and Data
Increased Staff Productivity
Smartphone Carrying GSM Number as well as Office Desk Extension
LOWER TCO
No Need of External Devices such as Voice Mail system, Gateway or ATAs
Support for Diverse Network Types – Investment Protection
Avail Benefits of New-age Networks on a Common Communication Platform
Flexible Scalability
No Need of Changing Existing VOIP Devices (VOIP Gateways, SIP Server, SIP Phones) and Telephone Instruments
COMMUNICATION CONVENIENCE
Identify Calls before Answering
Reduced Operator Call Volume
Automated Call Treatment
No Need of Changing Accustomed Dialing Patterns
Increased Employee Productivity and Efficiency
Work from Anywhere, Anytime
STAY CONNECTED
Multi-locational Connectivity
Seamless Employee Mobility
Universal Connectivity
HIGHER ROI
Call Cost Saving on each Call
Optimum Utilization of Internet Bandwidth – using the same
Bandwidth for Voice and Data
Customer Satisfaction – Increased Responsiveness
Field Upgradable
Reduced Travel Charges within Office Premise and between Office and Field Resources
No Need of Additional Application for Configuration
CONTROL OVER OPERATIONAL COST
Reduced Long-distance Telephony Costs through VOIP
Free Inter-site VOIP Calling
No Need to Invest in New Infrastructure
Increased Organizational Efficiency
No Need of Separate Administrator for Multiple Locations